JOPCA in Brief
 Japan Overseas Ports Cooperation Association (JOPCA) is a voluntary members' association founded in January 1993, as a non-governmental, non-profit-making organization headquartered in Tokyo, Japan.
 It is a unique organization of its sort in Japan in the field of port development and marine environment, and its activities not only include undertakings complementary to ODA by the Government, but also undertakings of experimental projects which are not eligible for ODA or Government assistance.
Mission Statement
 To render technical assistance to the activities related to the sustainable development of ports and their coastal areas in mainly developing countries, by fostering cooperation among JOPCA members, thereby contributing to the promotion of friendship between developing countries and Japan.
The membership of JOPCA today
 JOPCA comprises some 45 corporate members, mostly public port authorities, municipalities and port/trade-related private companies, and more than 140 individual members, mostly specialists in the field of port, shipping, trade and marine environment.
Organogram of JOPCA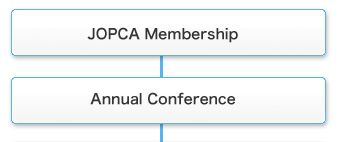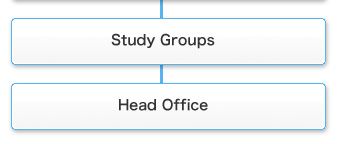 Benefits of JOPCA Membership
As JOPCA has its edge in terms of multicolored membership including governmental officials and public corporations' officials in their individual capacity besides the membership of private companies and local governments, each member can enjoy opening up his/her communication with each other equally.
Each member can access to other members' websites through the JOPCA Homepage.
Each member can participate in the JOPCA seminars and welcoming parties for JICA group trainees (port engineers and managers) from various developing countries.
Each member can receive a free copy of JOPCA's biannual bulletin and published material.
JOPCA's activities
Technical cooperation with developing ports:
JOPCA has, since 1995, rendered technical assistance to Myanmar Port Authority.
In 2000, JOPCA provided to the Port of Sihanoukville, Cambodia one hundred sets of safety caps, technical reference books and publication aid for the brochure of the Port.
JOPCA is also providing Sri Lanka with financial assistance for the publication of the comprehensive development plan of Trincomalee, Sri Lanka.
JOPCA has recently given assistance to the endeavors of an environmental expert to plant arrowroots in the slag-heap area of Quan Ninh coal mines, Vietnam, who is attempting to offset the impact that these mines are having on the marine environment of Halong Bay, a Natural World Heritage designated by UNESCO.
Assistance to the activities of voluntary JOPCA members for developing countries:
In 1999 and 2000, JOPCA held a training/workshop program on shipping management & operations for the senior staff of the Federated States of Micronesia, with the cooperation of a shipping expert.
JOPCA is collaborating with governmental agencies and private research institutes to render assistance to the cause of cultural, economical interchange for Northeast Asia.
In April 2001, JOPCA sponsored, together with other four organizations, 'Symposium focused on Transportation Infrastructure in Northeast Asia' held at Keidanren-Kaikan, Tokyo.
In 1999 and 2000, JOPCA jointly held a research seminar on water clean-up of Avacha Bay, Kamchatka, with the Regional Nature Protection Committee and Kamchatka Institute of Ecology and Nature Management to exchange views on the rehabilitation of the Bay.
Cooperation to international meeting by JOPCA members and promotion of international friendship
JOPCA and nine port-related organizations of Japan hold welcoming parties for overseas participants taking part in the training courses held by Japan International Cooperation Agency and MLIT.
JOPCA is ready to cooperate with and assist JOPCA members to hold international conferences/seminars.
Other projects
Following books have been published by JOPCA:
Report of the survey on sister ports relationship of Japanese ports, 1993
The Port of Colombo 1940-1995 Volume II by K. Dharmasena, 1998
Monographs on Avacha Bay's Ecology and Environment, 1998
Report of the survey on sister ports relationship of Japanese port, 2000
Trincomalee Maritime and Terrestrial Authority (TA Concept) Vol. One and Two, 2000
Technical Guide Book for the Development of Estuarine Navigation Channels